Promote youth sports or academic achievement with quality, custom trading pins. Questions? Call 877-633-7446.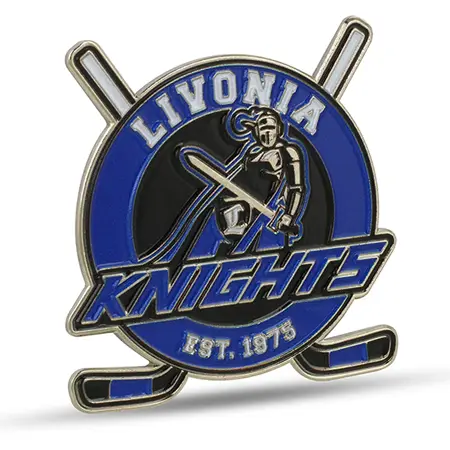 Step 1: Submit Idea
Simply upload a drawing/photo, or describe your idea to us. Your team's name, colors, age group, and picture of the logo and mascot are helpful.
Step 2: Receive Art
Within hours, you'll receive your custom artwork to review. Request any changes to the design as desired, and add on any pin accessories.
Step 3: Receive Pins
After approving a final design, you'll be able to submit payment. Our pin engineers will then get to work and you'll receive your custom pins fast!
NEED A RUSH DELIVERY?
Get pins FAST — in as little as 1 business day! Simply enter the date you need them when ordering.
Accessorize your pins
Make your trading pins irresistible with our unique interactive elements!
Blinker
For those with larger budgets, blinkers are a great way to attract attention.
(+ $0.95 each)
Why Choose Pins Fast
Unmatched in quality and experience.
Free Shipping in the USA
No hidden fees. Our pins come with free air shipping. Rush orders are also available at checkout.
Free Custom Artwork
Other sites require that you hire your own graphic designer. At Pins Fast, our talented artists will create your design for free.
15 Years of Quality
With 15 years of experience, our pins are crafted to be durable and each comes with a military grade attachment.
sample Trading pin designs
Check out a small sample of our trading pin designs.
Customer Reviews
Customers rate this product 5 out 5 stars (based on 37 reviews).
Showing Off Cooperstown
WOW! We are totally thrilled and pleased at how great these look. We are confident that every player will be on the hunt for our pins to trade with our players. Looking forward to showing them off down in Cooperstown.
Only Use Pins Fast
I received our pins. I cannot thank you enough for the help you and your team provided to me for my son's team. I will only ever use your company for pins in the future, and I will be sure to tell everyone about your great work.
Great trading experience
I took one out for a sneak peak and will separate them out for the kids later tonight! Thank you so much for being our hero and saving the day! The kids are going to have a great trading experience with these pins!
4th Time Buying
Im a repeat customer, using Pinsfast for the 4th time. I really like how personal and professional they are. I have had great service but that is secondary to how great the product is. Reliable, fast, and easy- thats why I use them.
Extreme Rush Order Met
Our team was in an extreme rush to order pins to exchange at a tournament. Pinsfast.com worked quickly, and in my opinion, over and above regular service to design, confirm, create and deliver our pins. The pins were delivered to our hotel at the tournament; great flexibility! The pin design had many features; the players and parents were thrilled! Thanks Pins Fast!
FAQ
Quick answers to frequent questions.
Production time varies based on the type of pin material selected, the quantity, and the time of year. For an estimate, please call us.
However, rush orders can be manufactured and shipped as fast as 1-2 business days. When submitting your order, simply enter the date the pins are needed by.
Sure. When submitting your order, simply upload your image file and explain how you would like us to use it. You may also upload images of concepts or sketches of your idea and then we can convert it into a full-color graphic.
After you have received your graphic design and approved a final version of it, then you will need to pay for the order.
You may add them to your initial order or when you review the custom pin artwork we've created for you.
Usually, trading pins are "soft enamel" pins. These custom metal pins filled with enamel color. Nearly all customers choose this type.

Alternatively, a cheaper and faster option are "offset printed" pins. Feel free to call us to discuss the pros and cons of each material type or to request a pin sample kit.
Still have questions? Call us!
Available Monday-Friday, 8am-6pm EST.